Long Island Basement Remodeling
• Interior Remodeling Services • Exterior Remodeling Services • Full Service General Contractor
To Schedule a Free Estimate, Call us Today @ 631-403-6050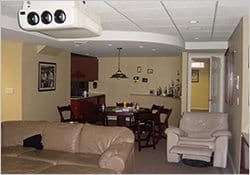 A finished basement will add value to your home and usable living space in an otherwise underutilized area. Unfortunately many homeowners deal with moisture problems in their basements that can lead to mold as well as has high possibilities for leaks or flooding. A good basement finishing system will consider all of these factors and will last for years to come. There are limitless possibilities to what your basement can be for your home and homeowners looking for basement finishing ideas can easily begin to feel overwhelmed.
With all the information out there, it's difficult to know what's best. In the past, there was only one solution for finishing basement walls and ceilings, which was drywall. Formerly all finished basement floors were traditionally carpeted, without the proper measures, resulting in a damp basement environment that causes the drywall and carpet to grow mold and mildew and eventually leads to rot. New basement finishing systems offer plenty of alternatives.
At Long Island General Contractors, our basement specialists can help. With a free design consultation and presentation of various finishing methods, including standard drywall and many basement finishing systems, our basement designers will walk you through your transformation and create a space that is useful for your family and adds value to your home. Give us a call today for a free consultation.