Long Island Home Builders
• Interior Remodeling Services • Exterior Remodeling Services • Full Service General Contractor
To Schedule a Free Estimate, Call us Today @ 631-403-6050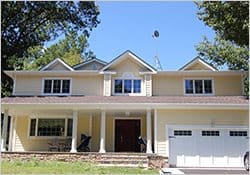 Extended families, new additions, growing kids and in-laws visiting are just a few of the reasons you might want to add an extension or addition to your home. Most often, these projects come in the form of adding bathrooms, bedrooms, remodeling a basement or wanting to increase the size of an existing space such as your kitchen or living room. No matter what the reason, building an extension or addition on your current home is the perfect solution to your need for more living space and Long Island General Contractors can help.
Depending on the topography of your land, one of the more functional additions is a new garage, which can accommodate a new master suite above. With a garage addition, you can include a master bathroom and master closet, all connected to your existing home.
We build extensions and additions that are functional and beautiful, using only the very best construction practices, exceeding minimum code requirements and all according to the building codes in your area.
We can also meet all of your expectations for designing, building and constructing in your area. Call us today to discuss your ideas and to receive a free in-home consultation and estimate.