Long Island Deck Builders
• Interior Remodeling Services • Exterior Remodeling Services • Full Service General Contractor
To Schedule a Free Estimate, Call us Today @ 631-403-6050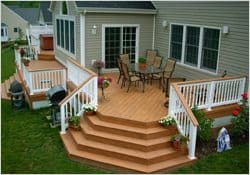 Many homeowners want to make upgrades to their home that will provide enjoyment for them while increasing their home's value at the same time. One of the smartest and valuable ways to do so is with a well-finished deck. A properly designed deck will give you the most space for the money. Decks provide great appeal and functionality while significantly increasing a home's assessed value.
More often than not, there are less space limitations on an outdoor deck design, so there's more room to do things in a fully customized way. A properly built deck requires very little maintenance and is an excellent place to relax in the summer months. Your convenience and satisfaction is our top priority. Before construction starts, Long Island General Contractors will work with you to create a practical outdoor living area and can incorporate seating, grills and ovens exactly where you'd like them.
New decks are typically much easier and faster to build than other home upgrades. Our advanced fastener systems keep unsightly assembly items out of view while making use of a wide variety of lumber types such as pressure treated, redwood, teak and even exotics such as ironwood and zebrawood. If a homeowner prefers, we also offer the latest in top-quality engineered materials; both for longevity and to protect the woodlands.
All decks we build have a secure, solid foundation installed by us. Our decks are built to last.
If you want some additional outdoor living space and are thinking about a new deck, or repairing an existing one, please call and ask for a free consultation. We will review your outdoor space and limitations, and provide you with an assessment that works for both you and the allotted area.