Long Island Masonry
• Interior Remodeling Services • Exterior Remodeling Services • Full Service General Contractor
To Schedule a Free Estimate, Call us Today @ 631-403-6050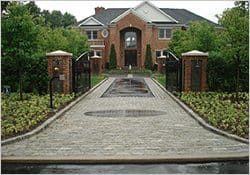 If you'd like to make a change in your home design and curb appeal, you may want to consider choosing stone or brick masonry for an elegant yet dramatic effect. The choices in colors, textures and shapes are endless. We will work with you to incorporate the many types of stones available so that you can accurately match it to the existing architecture of your home, or change it completely to create an entirely new look. When you decide on the beautiful look of stone, it's important to make certain that it's done correctly to ensure both a beautiful and a durable result. At Long Island General Contractors, our Long Island masonry contractors can help you achieve both of these goals through our expert design and execution of both decorative and functional masonry elements.
The intuition and experience of a stone mason are imperative when creating the exquisite designs we commonly see. The ability of the craftsman allows natural stone to be used in a multitude of ways and our expert designers can easily communicate any intended result. Stone masonry can be made for decorative accent purposes, worked into a structural project, or be incorporated into both. Stone is the original "green" building material.
Most homeowners that live on the properties that have hills, are sloped, or generally have a landscaping challenge should consider building a retaining wall around their homes. Retaining walls ensure that water will flow away from your home and wont cause damage if there's an elevation of water levels or a rough storm. Retaining walls are dependent upon the foundation of the entire construction. Depending on the area in which you live, there are many different ways to create a proper retaining wall. In some areas we can build a dry stacked segmented wall right on the ground. In other situations a concrete footing and a traditional cement block wall would be more appropriate. Our skilled craftsmen will create a functional yet beautiful addition to your property. There are many choices available today. Give us a call for a free consultation and to discuss which options will be best for you.