Long Island Entry Door
• Interior Remodeling Services • Exterior Remodeling Services • Full Service General Contractor
To Schedule a Free Estimate, Call us Today @ 631-403-6050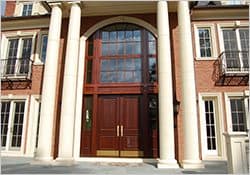 At Long Island General Contractors, we are a door contractor that specializes in the installation of replacement doors. We offer installation services for residential exterior and interior doors. Trust all your door needs to a contractor who actually knows and understands doors. Whether it's a sliding patio door, exterior or interior French door, entry door, interior door or storm door, whatever your need we can install it.
We have installed thousands of doors over the years. We offer a wide variety of quality doors from manufacturers such as ThermaTru, Jeld-Wen, Masonite, Provia, Simpson, Pella and Andersen. Choose from exterior fiberglass doors, exterior steel doors, interior and exterior wood doors, molded interior hollow core and solid core doors as well as storm doors. We offer replacement door services, new construction door installation, interior and exterior door repair and window to door conversion.
Are you having a new deck installed need a way to access it? We can help. We also put huge emphasis on door security and understand how important it is to have a properly installed door and locking system to keep would-be intruders out and your family safe. We take that part very seriously and now offer various types of deadbolt and frame reinforcement devices to keep you and your loved ones safe. Remember, alarms only help once the intruder is already in. Doors are an investment, so protect your investment and yourself by having your doors installed properly by the professionals.
Remember that your door is only as good as the contractor who installs it.
Entry Doors
The most common problem with any entry door is that you see light coming through around the door when it is closed. This is because either the weather-stripping has worn off or the walls of your house have shifted two different directions over time. If light is coming through that means air is coming through, which is not very efficient. Another common problem is that the door sticks and is hard to open and close. This is more than just a door that's a pain to open it could also be trouble in the case of a fire. The reason the door is hard to open and close is that either side of the door has dropped and caused the door to become out of square. Finally, the problem of your entry door just being beat up and ugly. Your front entry door is the first thing people see when they enter your house and a new door creates more curb appeal as well.
Patio Doors
For French patio doors the problems are much the same as for entry doors. Many times French doors are not installed properly in the first place. The one other reason is that opening the door takes up quite a bit of space inside the house. This can be remedied by replacing the french door with a sliding patio door or an out-swing French door.
For sliding patio doors the most common problem is lack of efficiency and difficulty opening and closing the patio doors. The majority of sliding patio doors we replace are standard builder grade aluminum frame doors. These doors have only a few pieces between you and a high energy bill. The newer patio doors are often vinyl or aluminum clad and have interlocking weather-stripping not to mention a much higher energy rating. The issue of difficulty sliding the doors is mostly due to rollers that the doors slide on. Over time these rollers break and cause the sliding panel to sit directly on the wheels of the rollers making the doors very hard to slide. Again, this could be a big problem in the case of a fire. These rollers can sometimes be replaced but it's often more worth it to just go ahead and change the whole door. Another issue is that the seals on the panels break allowing moisture and condensation between the two glass panels, making the door very unattractive and extremely hard to see through.
Storm Doors
There are a number of reason why you should change a storm door. The first is that the storm door is old, ugly and has just been worn out. Adding a new storm door can also add curb appeal. Another is that the storm door has been damaged by wind, either ripping out part of the entry door jamb or bending the cylinders that pull the storm door closed. These closers can be replaced providing there is no other damage to the storm door. If a large piece of the door jamb has been ripped off it may be a good idea to replace both the entry door and the storm door. Problems such as the storm door not closing all the way can sometimes be a matter of adjustment but if the door has sagged over time and is now hitting at the top of the opposite side, you may think about replacing the door.
Interior Doors
Most problems with interior doors are due mostly to the way houses have settled and due to doors sagging over time. Bathroom doors suffer a lot of swelling and shrinking because of steam from showers. The doors have swollen so much that now they rub and stick when you open or close them. This can often be fixed with some adjustments by a pro. Other times doors are just out dated and you may want to replace those old flat panel doors with new six-panel or two-panel interior doors. Or, maybe you want to let light into a dark stairway to your basement with a 15-light single French door.