Long Island Home Extensions
• Interior Remodeling Services • Exterior Remodeling Services • Full Service General Contractor
To Schedule a Free Estimate, Call us Today @ 631-403-6050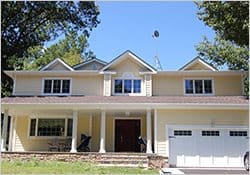 Are you expecting a baby or an elderly family member to be joining you in your home? Are you fighting for time in the bathroom? If you are recently feeling the need for more space in your home, a home extension can be the perfect solution. Whether your family is growing and you need an extra bedroom or bathroom, or you want to utilize more space for recreation, at Long Island General Contractors, we can provide you with a functional and beautiful new home extension.
With a home extension, you can seamlessly add onto your current home without going through the daunting process of buying a new home and moving to find the space you and your family need. Here at Long Island General Contractors, we build home extensions using only the very best construction practices, exceeding minimum code requirements all according to the building codes in your area.
If you're feeling intimidated by a home extension or feeling that a home extension is too big of a project, consider all of the benefits. By choosing to expand on your current home, you're going to save time and money that you would be spending on a new home. The money you would be spending on deposits, new mortgages, and moving fees could be better spent on a home extension instead while also avoiding all the time you'd be wasting selling your house, uprooting your family and moving to a new one. A home extension also gives you the ability to personalize the space and really make it your own in every way. You can create the space you and your family need while also utilizing it the way you want to.
And finally, with a home extension, in the long run you'll be adding value to your home when you look to sell in the future. A home extension will add square footage as well as a new functional addition to your home's design. It is also important to note that during a home extension, your family won't be inconvenienced and can stay right in your home during the process. With most home extensions occurring on the side or back of your house, you and your family can continue living in the main house comfortably during your home extension.
Working with Long Island General Contractors to add on a home extension will be a great experience as we hold ourselves to the highest standards. We are very experienced and will take into consideration all of your needs in order to design and build the perfect home extension for you and your family while working together to evaluate lifestyle needs, design preferences, and budget considerations. Every job, regardless of size, is assigned a personal project consultant who will help monitor the project throughout the whole extension process to ensure that the highest quality work is done.