Long Island Home Additions
• Interior Remodeling Services • Exterior Remodeling Services • Full Service General Contractor
To Schedule a Free Estimate, Call us Today @ 631-403-6050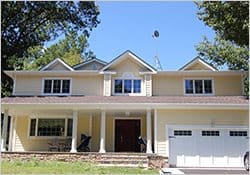 As families expand and space in your home becomes tighter, it may be time to consider adding on a home addition. With a home addition, you can add anything from new bedrooms and bathrooms to new garages and expanded kitchens. As long as your addition is up to code, the possibilities are endless and it can be the perfect solution to your tight space problems. Long Island General Contractors can help you create a seamless and functional home addition that won't look like an addition at all.
With a home addition, you can get the space you need without having to uproot your family and move them to a new home which can be a time consuming and expensive process. A home addition can provide you with the necessary space while avoiding these hassles of moving. By working with Long Island General Contractors on your home addition, you can be assured that the best construction practices will be used and that your new home addition will be safe and up to code.  
Still not convinced that a home addition is the best solution to your problem? Consider these benefits of choosing a home addition:
Save time and money on moving fees
Since space is the problem, your first thought may be to move to a bigger home. But this is going to be extremely time consuming and expensive. A home addition is an inexpensive way to expand your home without having to move. You can avoid all those new mortgages, closing fees and moving costs and instead just have a home addition added to your current home for less time and money.
Ability to personalize the space
A home addition will give you the ability to completely personalize your new space. You can express your family's needs and ensure that a space that meets those needs is added onto your home.  
Adding value to your home
With a home addition, you are also adding square feet onto your home. When eventually selling your home in the future, this added square footage will be a selling point and can help increase your home's value.
Finally and most importantly, your family can stay put in your home and will not be inconvenienced during the home addition process. You won't need to leave the home your children grew up in just because you need some extra space. A home addition allows for your family to remain in your home while your new home addition is constructed.
If you need more space and these home addition benefits sound appealing to you, Long Island General Contractors can help provide you with the home addition you need. We will work with you hand in hand to evaluate your family's way of life, your preferred design choices and any important budget considerations to equip you with the best possible quality home addition for you and your family.