Long Island Roofing
• Interior Remodeling Services • Exterior Remodeling Services • Full Service General Contractor
To Schedule a Free Estimate, Call us Today @ 631-403-6050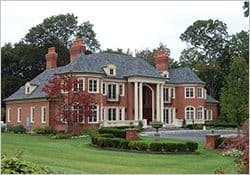 A good roof is one of the single most important aspects of any home. A faulty roof can create irreparable damage to the structure of a home and the contents inside of it. Many homeowners think that they require a new roof because of some minor leaks during a harsh winter or after repeated rain storms. At Long Island General Contractors, our roofing experts may determine that a roof repair is all that is needed. Your roof may be failing due to age, severe weather, poor workmanship, defective materials, improper specification of a roofing system, abuse or neglected maintenance. Whatever the problem, we can help.
Upon inspection of your roof, our Long Island roofing contractors will determine its current condition, detect weakness and failures and identify any potential future problems. We will lead you towards a solution that is effective and considerate of your budget. If you're unhappy with the slope of your roof or require more natural light in your home, a roof re-design may be the appropriate choice for you. We will guide you through the process and create a timeline for the job that will have a minimum impact on your daily life.
Through a program of regularly scheduled annual or semiannual inspections we can assist you in protecting your roofing investments by seeking to identify damage in its early stages. Early detection of leaks and roofing failures make it possible for us to repair and extend the life of a roof which is significantly less expensive and time consuming than re-roofing an entire home.
If you suspect that leaks in your home may be the cause of a roof problem, give us a call for a free consultation. You should'nt let a minor leak turn in to a major problem.